Legend Of The Stone
简体中文
China2012 / 68min / HDV
Director:Rick WIDMER
SYNOPSIS AND PROJECT DESCRIPTION
LEGEND OF THE STONE is a feature length documentary about a philosophical man confronts a 400-ton rock and the beginning of space and time.
When artist Zhan Wang showed Director Richard Widmer his first sketches for the "My Universe" project, the filmmaker could barely grasp his idea. Zhan wanted to blow-up a huge rock, film the explosion from six sides in ultra slow motion, and then recreate the experiment with a six-sided video installation and rock fragments made of stainless steel. And he wanted the entire process filmed. "Humans cannot possibly understand the origin of the universe," hypothesized Zhan Wang, who invited the filmmaker to go along for the ride.
Zhan Wang finds his rock, hires pyrotechnics specialists, and coordinates his high-speed video team, but when local police discover that a foreign "journalist" is recording the proceedings, the village's Party Secretary refuses Zhan Wang permission to make a large-scale explosion within his jurisdiction. Instead of contemplating the stars in heaven, Zhan Wang is forced to grapple with local politics. And when Zhan Wang finally wins permission, even the heavens seem to conspire against him. Whether or not you believe in God, recreating the Big Bang will not be such a simple matter.
Mocking Western reason and science? Searching for the meaning of life?
Projecting a contemporary Chinese ideology? Or is Zhan Wang himself merely a single point of light shot from its source into eternity? LEGEND OF THE STONE tells the story of an artistic encounter with the universe and the unexpected collision of conceptual, material and social reality.

DIRECTOR:Richard Widmer
US-born Richard Widmer works exclusively with the China's top-level artists, forging projects which bridge Chinese thought with Wester documentary filmmaking practice. Bi-lingual and bi-cultural, through thoughtful interviews and intimate photography, Richard Widmer makes films that explore the common heritage, intelligence and core human values, which extend beyond national borders and unite all peoples.
Today Art Museum Film Arts Department Director (2007 – 2010)
DANCE LANGUAGE co-produced by Chinese Disabled Peoples Foundation & Unicef (2010)
AMERICAN FAIR (Documentary) 1st prize – Qinghai Documentary Film Festival (2008)
Executive Producer:Hsu Hsiao-ming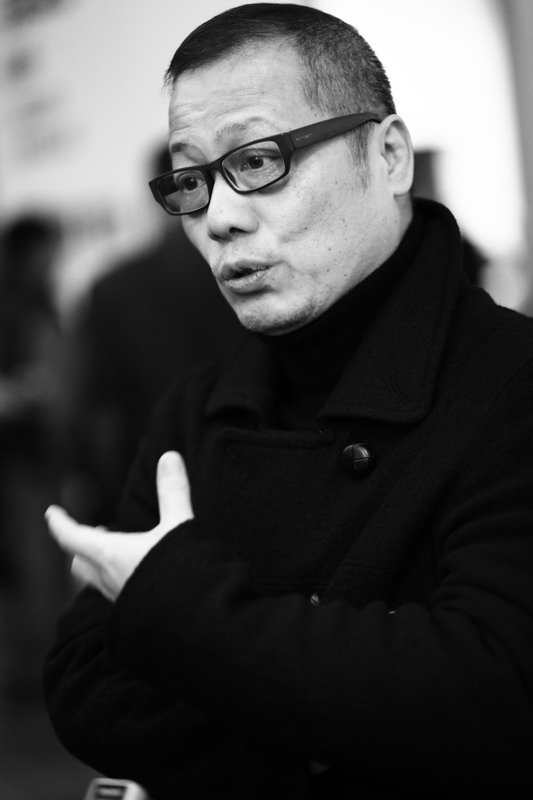 Award-wining director turned producer, Hsiao-ming, was born in 1955, Taiwan. After graduating from Shih Hsin University with a degree of BFA in Film Directing and Screenwriting, Hsiao-ming later started working for Taiwanese director Hou Hsiao-Hsien. In 1991, his feature debut, Dust of Angel (1991) was a sensational event in Taiwan with a record breaking of 2.2 million admissions sold. The film was also selected as the closing film of the Director's Fortnight at the Cannes Film Festival in 1992.
Followed by the success of Dust of Angel, Hsiao-ming went on making critically acclaimed feature films, documentaries and TV series in Taiwan, which earned him multiple international awards including the FIPRESCI Prizes for Homesick Eye (1998) and the Netpac Award for Heartbreak Island (1994). Hsiao-ming later started his producing career working with Chinese director Wang Xiaoshuai. Together, they've made three films including the Silver Bear winning Beijing Bicycle (2001), Drifters (2003) and Chongqing Blues (2010), the later two were both selected for the Cannes Film Festival.
In 2010, Hsiao-ming founded Beijing Hsus' Film & Television Culture Co., Ltd. and is currently working on several feature projects. In addition, he also serves as a consultant at the CNEX foundation. He resides in Beijing.
ARTIST:Zhan Wang
Zhan Wang(b. 1962, China) currently lives and works in Beijing. He was listed as one of the "100 Most Discussed Global Artists" by the Japanese art magazine Art Handbook (2000). His signature stainless steel "Artificial Rock" series have been widely exhibited and collected including the Metropolitan Museum of Art, New York and the LAMOCA, Los Angeles.
Working in installation, photography and video, his sculpturally informed practice examines the contradictions between nature and modern civilization, and investigates the re-creation of traditional culture. Through re-production and material investigations, the works provide a new conceptual understanding for sculpture.
In 2005 he was invited to take part in the Chinese Pavilion of the 50th Venice Biennale. His recent solo exhibitions include "One Hour Equals One Million Years" (Today Art Museum, Beijing 2010), "Garden Utopia" (National Art Museum of China, Beijing 2008), "On Gold Mountain" (San Francisco Asian Art Museum 2008), and "Urban Landscape – Beijing" (Williams College Museum of Art, 2006). Group exhibitions include "Singapore Biennale" (2008) and "Universal Experience – Art, Life and the Tourist Eye" (Museum of Contemporary Art, Chicago 2005). Zhan graduated from the Beijing Industrial Arts College in 1981 and then graduated from Central Academy of Fine Arts in 1988.